THE PRODUCT:

The SUPERIOR AQUA SYSTEM is an advanced electrolytic process which emits small amounts of copper ions into the system for the purpose of fungal, bacteria, bio-film, and algae control, while reducing the hazards associated with chemical dosing. From the Agricultural spray system to the fruit wash system and well system, the SUPERIOR AQUA SYSTEM can help save the end user chemical costs and 20% to 50% of labor. The SUPERIOR AQUA SYSTEM is environmentally safe, user friendly, cost effective, listed and certified by UL Laboratories, and is EPA registered.
IONIZATION:

The SUPERIOR AQUA SYSTEM utilizes an advanced process known as ionization, whereby electrolytically generated copper and silver ions are dispersed into a water stream for the purpose of microbiological and algae control. A direct current is applied across copper electrodes at a dose rate which is automatically maintained by a solid state control unit, making the SUPERIOR AQUA SYSTEM extremely reliable and user friendly in field operations. Once the SUPERIOR AQUA SYSTEM is commissioned, the concentration of ions builds quickly within the system, producing a long and stable disinfecting residual that is unaffected by heat, sunlight or evaporation. The disinfection action is attributed to the positively charged ions which form electrostatic bonds to the negatively charged sites on micro organisms and then undergo reactions at the cell surface, crossing the cell membrane and beginning the inactivation process.
ADVANTAGES:

The SUPERIOR AQUA SYSTEM provides certain unique advantages over traditional "chemical only" water treatment. Unlike most halogens and biocides, ions provide a stable, measurable disinfecting residual. The SUPERIOR AQUA SYSTEM does not accelerate corrosion rates, as do most oxidizing agents, and can actually reduce the use of these chemicals up to 90%. Savings in chemical use, plant preservation and labor, offers the end user rapid pay backs. The handling and storage of potentially hazardous materials is also greatly reduced, and therefore, so is the associated liability.
APPLICATION:

Ionization sprayer applications produce an electrical charge. Electrostatically charged droplets are physically attracted and adhere to conductive grounded objects. They deposit equally on all plant surfaces, even under the canopy. This electrochemical bond will insure a greater residual of product in both the field sprayers and washers.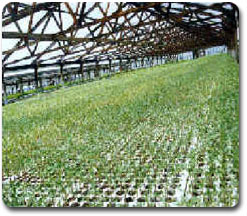 Controls Diseases on Plants, Fruits, and Vegetables
Reduce Costs
Reduce Labor
Reduce Materials